Reviews
PAULA'S CHOICE vs THE ORDINARY
In depth comparison of The Ordinary and Paulas Choice skincare brands. Paulas Choice and The Ordinary are two iconic and industry changing brands but when they are put to the test which comes out on top? In this video we explore all the products from both Paula's choice and the ordinary and work out which is the better brand for your skin.
I am sure you all have your views so leave them in the comments below as to whether your team Paula or team the ordinary. If you liked this video don't forget to give it a big thumbs up.
The Ordinary and Paula's Choice are arguably the two most popular skincare brands in today's market. The two companies have similar products, however, their formulations and ingredients are very much different.
The Ordinary is extremely popular for their low prices and ridiculously affordable but excellent products, however, they are also known for giving you one active ingredient per product, hence the low prices.
Paula's Choice, on the other hand, takes the opposite approach. This company often packs its products with several active ingredients in a single product as well as some additional goodies.
But, this is why Paula's products are quite pricey compared to the ones by The Ordinary.
Now, both Paula's Choice and The Ordinary have the two most popular Azelaic Acid products out there and they don't really have much competition when it comes to this particular ingredient.
So, if you are ready to try Azelaic Acid because literally everyone and their grandma raves about it these days, chances are you are going to buy one of these two.
Checkout Deciem Reviews: The Ordinary Reviews, Hylamide Reviews, Regimen Guide, NIOD Reviews
Let's find out which one is worth your money.
What Does Azelaic Acid Do To The Skin?
Azelaic Acid is an ingredient that wasn't that well known in the skincare industry until some time ago. However, research has shown that this ingredient can have a significant positive impact on the skin and certain skin concerns.
Azelaic acid can diminish the appearance of skin blemishes, help fade post-acne redness, pigmentation, and other discoloration, refine the skin's surface, and reveal a brighter and more even complexion among other actions.
The reason why it suddenly became loved and respected by everyone is that azelaic acid is not an irritating ingredient and is fairly tolerable by all skin types, including sensitive and compromised skins.
Is Azelaic Acid a Hydroxy Acid?
Azelaic acid is a so-called dicarboxylic acid. It's not an AHA or BHA but it is a distant relative to them as it also has some mild exfoliating properties.
Azelaic acid can be naturally found in wheat, rye, and barley, but it can also be synthetically made in a lab, which is the case when it comes to being used in skincare products due to its effectiveness and stability.
Benefits of Azelaic Acid in Skincare Products.
A very cool property of azelaic acid is that it has an antibacterial effect, which works against multiple bacteria including acne-causing, P. acnes.
It offers mild exfoliating properties which are a suitable and tolerable option for acne-prone skins that are weakened and sensitized due to harsh treatments.
Additionally, azelaic acid has anti-inflammatory properties, which is not only excellent for acne-prone but also skins that suffer from rosacea.
Furthermore, azelaic acid continues to take care of your skin even after your acne is gone and it can significantly minimize remaining spots of hyperpigmentation as well as post-inflammatory erythema, both caused by acne.
Moreover, since azelaic acid has great skin brightening properties, it can also tackle skincare concerns such as melasma.
The Ordinary Azelaic Acid Suspension 10%.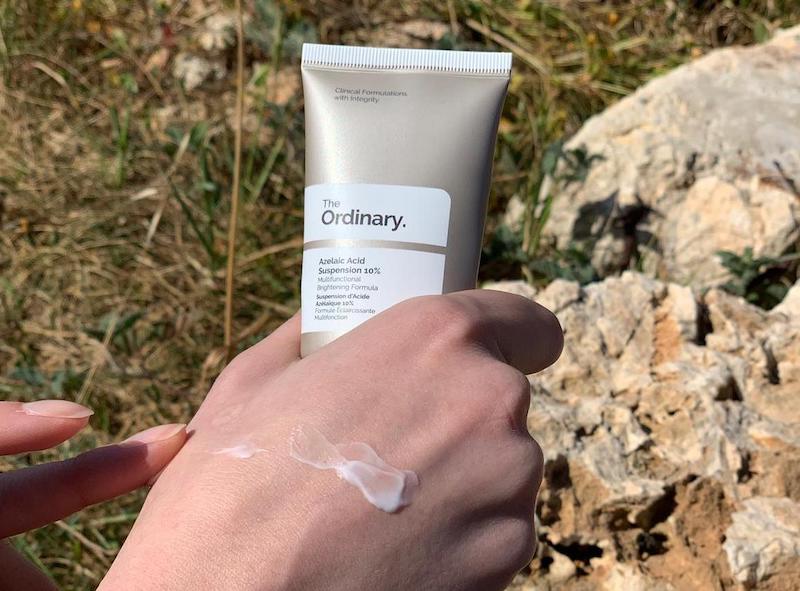 The Ordinary Azelaic Acid Suspension 10% contains the main active ingredient which is today's subject of interest as well as a bunch of silicones that make the thick texture easier to spread, keep the skin soft and supple, and reduce the appearance large pores.
Now, I have oily, acne-prone skin that also gets dull and dehydrated easily. I also have scars left from previous acne-breakouts, so I decided to chill out with my other exfoliating products and put this simple and straightforward product to the test, instead.
At first, I was quite satisfied with it. It glides easily, spreads nicely, mildly mattifies my skin, and it does indeed make my pores look slightly smaller than usual.
But soon after I started using it daily (eveningly, in fact) I started noticing several things I didn't really appreciate.
First, I started noticing how my skin would become a little dull right after applying it and I was rather confused because azelaic acid is supposed to do the opposite.
Then, I just didn't enjoy how it makes my skin more mattified than my previous uses, which was crazy enough on its own, but I soon found out that it simply didn't mix very well with the moisturizer I was using at the time.
Which brings me to my third "complaint": The product started pilling on my skin only moments after finishing with my skincare routine for the evening.
I would go out of the bathroom and glide my finger along my cheek just to double and triple check and the product was definitely pilling, I wasn't seeing things.
Now, after a short Reddit research, I found out that I wasn't the only one experiencing this problem and users were chiming in with their opinions on it.
However, I managed to find out that I was using a tad bit too much of this product and this was what was causing the pilling. Apparently, all you need is a pea-size amount for the entire face and I, admittedly, might have done a little more than that.
I didn't bother testing this as I kinda got bored of it real quick and moved on to the next option – the Paula's Choice Azelaic Acid Booster in hopes that I will get to see some excellent results without the several annoying things I experienced while testing the one from The Ordinary.
The Ordinary Azelaic Acid Suspension 10% Pros:
Affordable price ($12.00 for 30ml)
Gives instant results
Mattifies the complexion
Minimizes large pores
Small amount needed for the entire face
The Ordinary Azelaic Acid Suspension 10% Cons:
The product can start pilling
Only suitable with moisturizing rather than other mattifying products
Contains Tocopherol which may be a bit too rich and somewhat comedogenic for oily skins
You can really feel that silicone in the texture
Paula's Choice 10% Azelaic Acid Booster.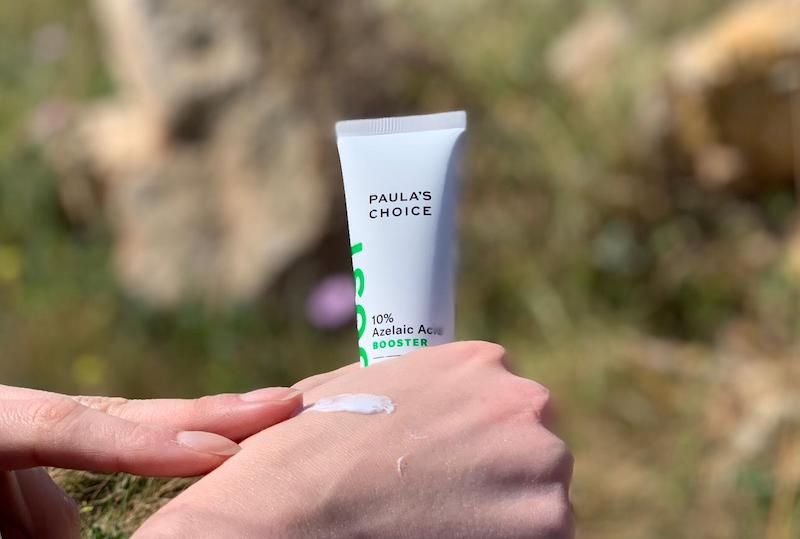 Now, Paula's Choice 10% Azelaic Acid Booster is a completely different story than The Ordinary for several reasons. But let's start with some of the beneficial ingredients it contains:
Salicylic acid: The gold standard for every acne-prone skin, this exfoliating ingredient is oil-soluble and it has the ability to get inside the pores and remove the buildup of sebum, bacteria, dead skin cells, and what else have you. It is extremely useful if you have oily, acne-prone skin.
Licorice extract: A skin-lightener with antioxidant properties, this ingredient helps reduce dark spots and keep wrinkles at bay. The most active part of this ingredient is called glabridin and it was shown to inhibit UVB caused pigmentation. Additionally, another study suggests that licorice is even more effective than the gold standard skin-lightening agent hydroquinone and is also one of the safest skin lightening agents in skincare products.
Allantoin: A super common soothing agent in skincare products, allantoin can be found naturally in the roots and leaves of the comfrey plant and it can also be produced synthetically. Allantoin has softening, soothing, and wound-healing properties which makes it a great ingredient for sensitized or compromised skins.
Bisabolol: One of the active parts of chamomile, bisabolol is a clear, oily fluid that is used in skincare as an anti-inflammatory and soothing ingredient.
Paula's Choice 10% Azelaic Acid Booster truly goes the extra mile and besides helping with acne, rosacea, and hyperpigmentation, it also soothes irritations and moisturizes the skin.
I have been using this product for literally 6 days, once a day (in the morning) and I started seeing an immediate improvement on my skin.
This product started working on some of my residual post-inflammatory erythema left from acne breakouts and I felt as if the product actually knows what to tackle first.
You know that feeling when you take a painkiller and you're wondering whether the painkiller will "locate" the pain and stop it. And it always does.
The same goes with this product. I started seeing immediate results and the reason why I felt confident writing this review is that I know things will only get better from this point on.
The texture is amazing, it glided on the skin like a dream, and it sets easily without leaving an excessively oily residue. It is more of a healthy glow rather than greasiness.
This product does not mattify the skin, nor does it say it does, and this is something I enjoyed as I typically go for mattifying products, so this was quite a pleasant experiment for me.
I truly can't fault this product for anything. It's just too damn good to pass.
Paula's Choice 10% Azelaic Acid Booster Pros:
Amazing and lightweight texture
Glides on easily
Doesn't leave an oily residue
Gives a healthy glow to the skin
Helps with acne
Soothes inflammation
Helps with post-inflammatory erythema
Fades hyperpigmentation
There are just too many pros, lol.
Paula's Choice 10% Azelaic Acid Booster Cons:
Pricey ($36 for 30ml)
Not always available
They don't ship to certain European countries